Here, we harbor unique design concepts and distinctive features. We bring you a charming and
captivating writing board experience that not only emphasizes spatial aesthetics but also pursues
exceptional quality.
In the design process of our writing board, our team spares no effort in exploring the possibilities
of spatial aesthetics. We deeply understand the significance of a comfortable and spacious working
environment in enhancing productivity and creativity. Therefore, we strive to create a dynamic
space that breaks free from traditional frameworks, allowing your workplace to be filled with vitality
and inspiration.
Quality is the core value of our product. To ensure that every mobile writing board is durable, we
meticulously scrutinize every detail. We choose high-quality materials, carefully selected and crafted
to guarantee the quality and reliability of our products. We strive for excellence and are committed
to providing you with an unparalleled user experience, turning every writing experience into a
delightful enjoyment.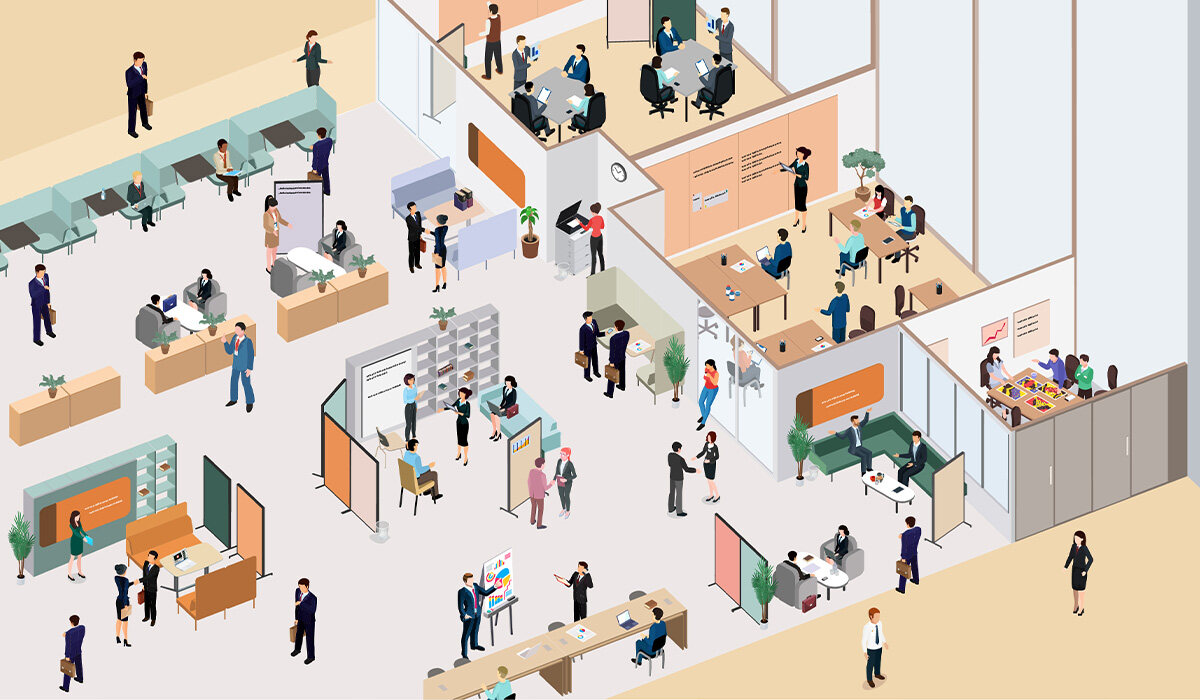 Our founders have explored the office furniture field for over 25 years, allowing us to create better
mobile writing boards through their meticulous attention to detail and understanding of the industry.
They have traveled around the world, experiencing different cultures and work environments, drawing
inspiration and incorporating innovative design concepts. This accumulated experience has provided
us with profound expertise and unique insights, enabling us to deliver outstanding products to you.
We believe that a mobile writing board is not just a practical office tool, but also a vessel to showcase
your taste and personality.
AGILE SYSTEM is a series designed specifically for learning and team collaboration. Our writing boards
can be easily hung on the wall and can also be connected using a writing board desk. The detachable
design adds flexibility to the use of the writing boards, while the mobile cart provides a comfortable
habitat and ensures a neat and organized space.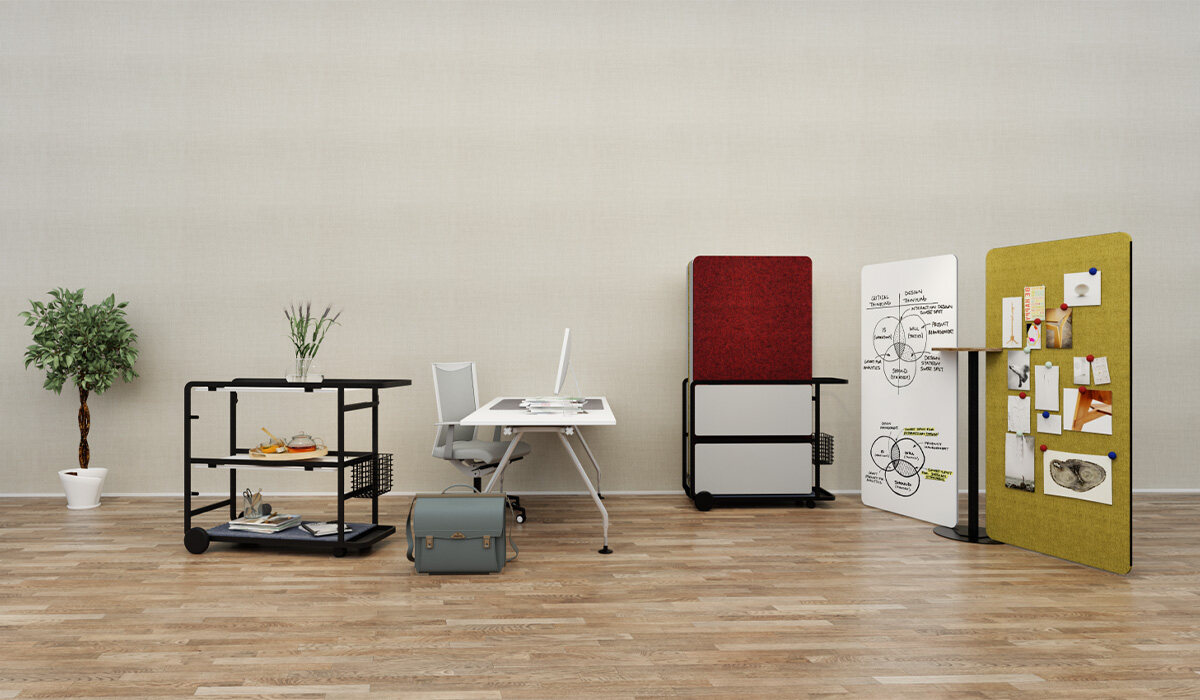 In the AGILE SYSTEM series, we prioritize the combination of practicality and flexibility. We understand
the importance of learning and team collaboration, which is why we have created this range of
multifunctional writing boards. Whether it's in schools, offices, or creative studios, our writing boards
provide an ideal working and learning environment.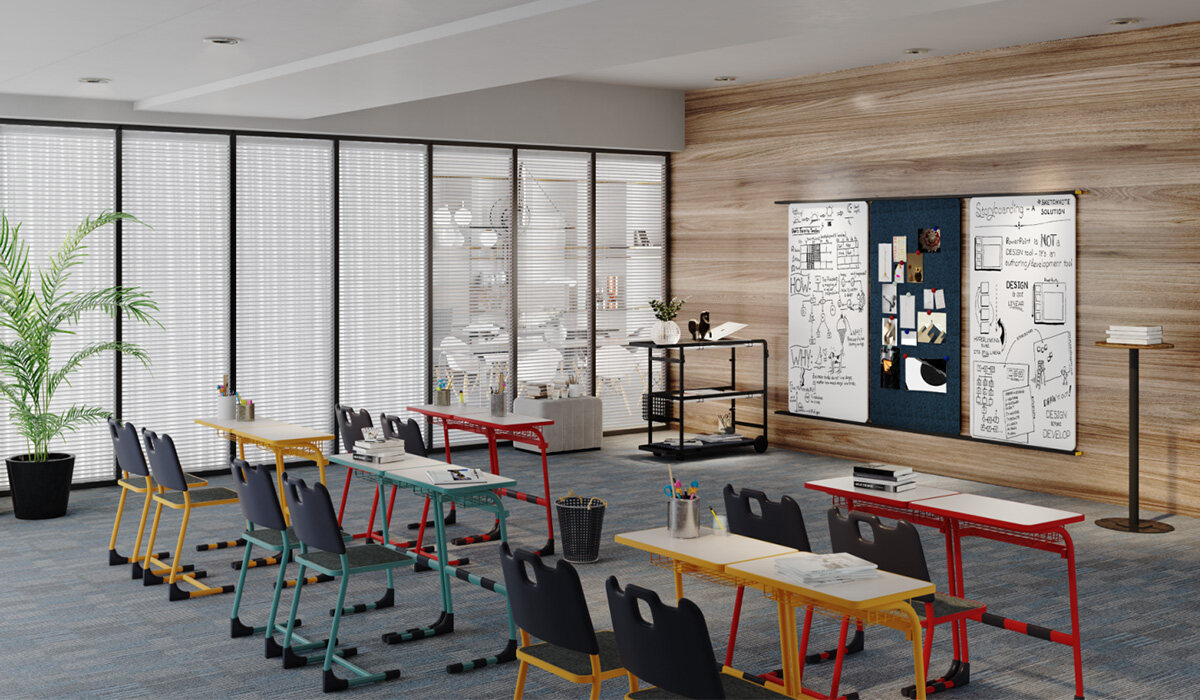 Our writing boards can be effortlessly hung on the wall, saving you valuable space. Additionally, the
clever design of the writing board desk allows you to connect two writing boards, creating a larger
working area. This flexible layout enables team members to collaborate more closely, generating a
multitude of ideas and solutions together.
We pay special attention to the detachability of the writing boards. Through clever connection methods,
you can easily detach and reinstall the writing boards to meet different needs and scenarios. Whether
it's for group discussions or independent thinking, our writing boards provide you with the most
suitable support.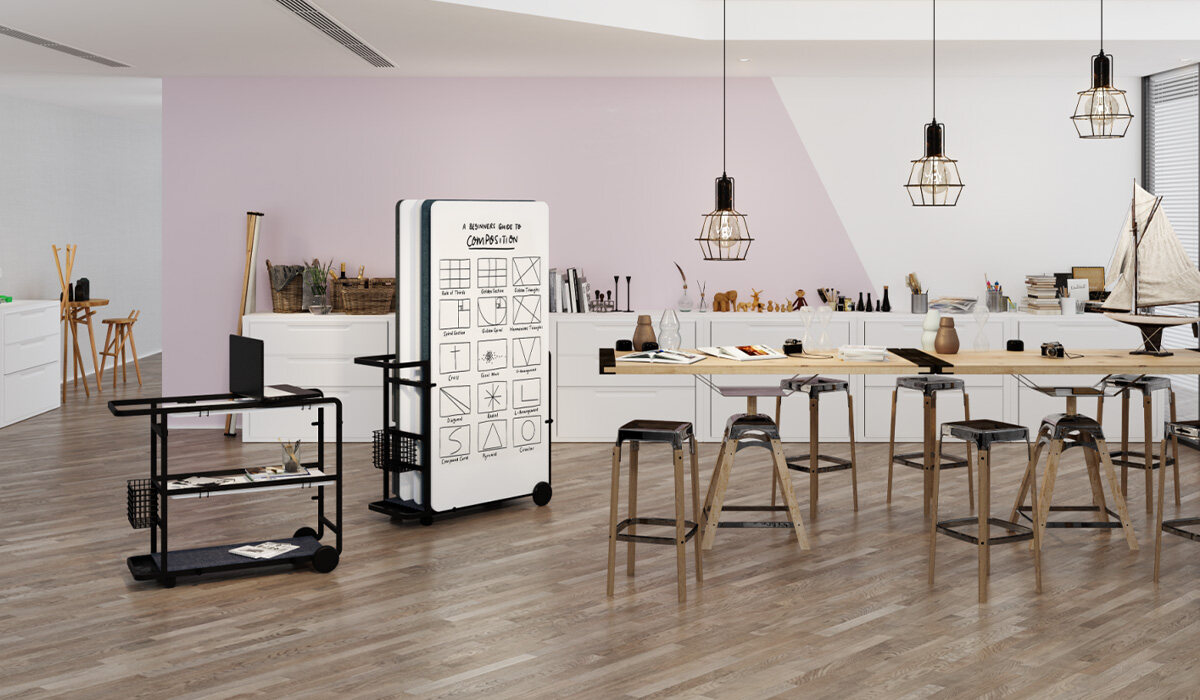 Furthermore, our mobile cart design offers a convenient habitat for the writing boards. You can neatly
place the writing boards on the cart, allowing for easy mobility and storage. This tidy design not only
enhances work efficiency but also creates an orderly and pleasant working environment.
Throughout history, people have enjoyed gathering in circles to share their ideas. The curved surface
writing board of HAINA is designed to create a sense of enclosed privacy for teams while also encouraging
active participation in discussions. It serves as a hub in shared office spaces, acting as both a divider
and a connector between areas.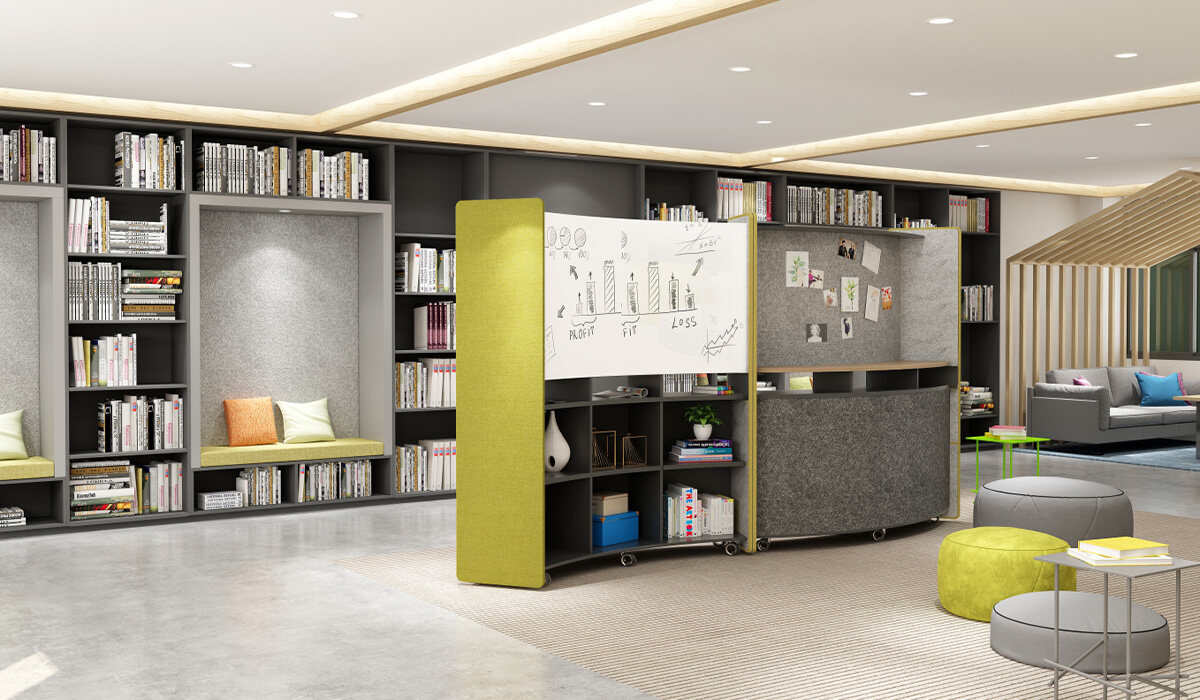 Features:
1. Curved design of the writing board allows for easy note-taking.
2. 2-meter-high side panels magnetically attract and serve as display walls.
3. Ample storage space for easy placement of files and documents.
4. Pin-up sound-absorbing panels showcase team achievements and provide sound insulation.
5. Silent wheels enable effortless mobility according to your preferences.
"Dong" refers to a keyword writing board, while "Gang" means storing and hiding during winter.
It is a clever design by the writing board storage cabinet designer who seamlessly incorporates
the elements of a writing board into a daily storage cabinet, providing an excellent solution for
users who are unable to free up space for a writing board.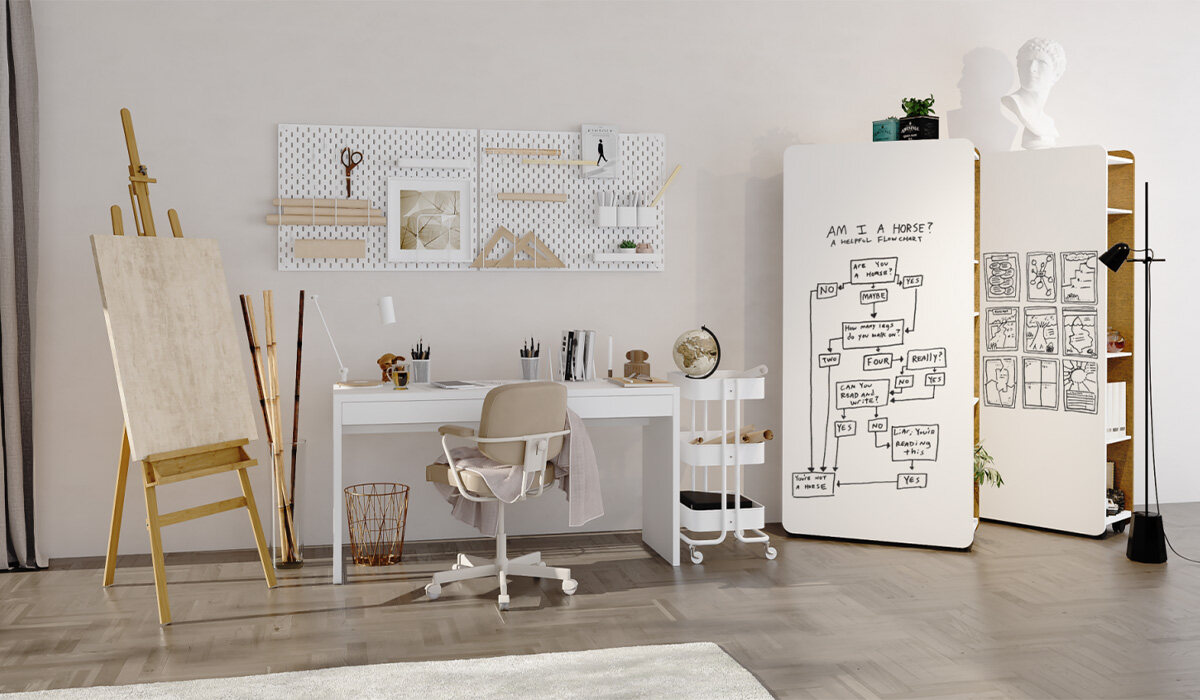 Children have an innate love for drawing and colors, and DongGang can become their best companion,
accompanying them through their precious childhood moments. DongGang serves as a wellspring of
inspiration in a personal workspace, a storage haven for knowledge, and a storage cabinet that every
designer would fall in love with. It seamlessly integrates the elements of a writing board into a storage
cabinet, providing a perfect solution for users who cannot spare space for a separate writing board.
Whether it is used to store drawing tools, books, or other creative materials, DongGang creates an
organized and aesthetically pleasing creative environment for children. Let DongGang accompany
children on their journey of growth, allowing their imagination to flourish on a free canvas.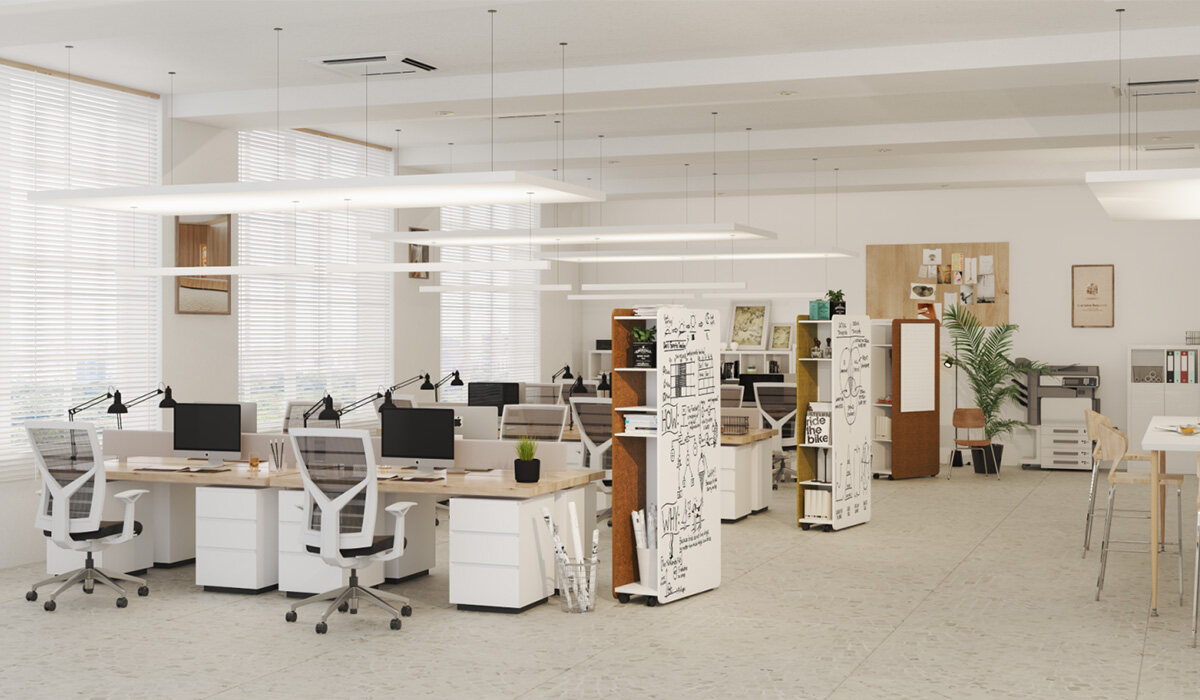 features:
(1) Unique new material board surface that leaves no marks when written on.
(2) Shelves of varying heights to accommodate various storage needs.
(3) Fabric-covered side panels for magnetic attachment of photos, drawings, and more.
(4) Sleek and slender design that occupies minimal space.
(5) Silent wheels for effortless mobility according to your preferences.
Shape Space Freely, Enhance Interior Layout Depth.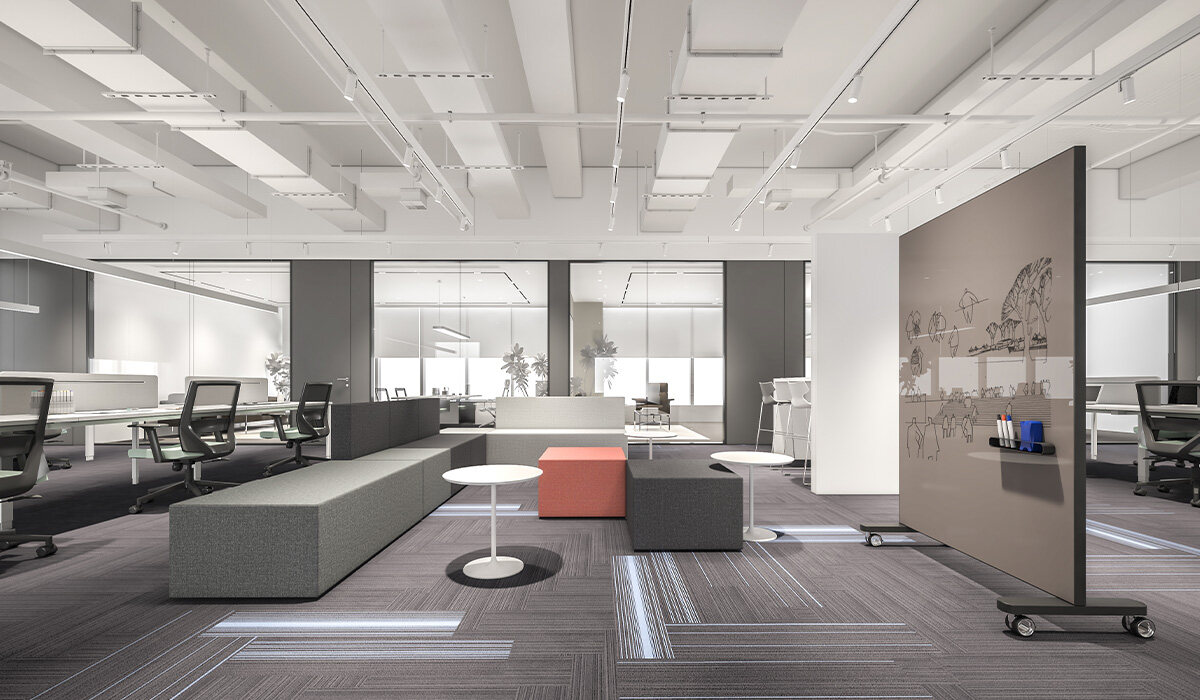 By effortlessly dividing and reshaping spaces, the mobile writing board adds a sense of depth to
interior design, fostering more efficient communication and collaboration among teams. In this
flexible workspace, 1+1 no longer equals 2, but exceeds expectations with synergistic effects.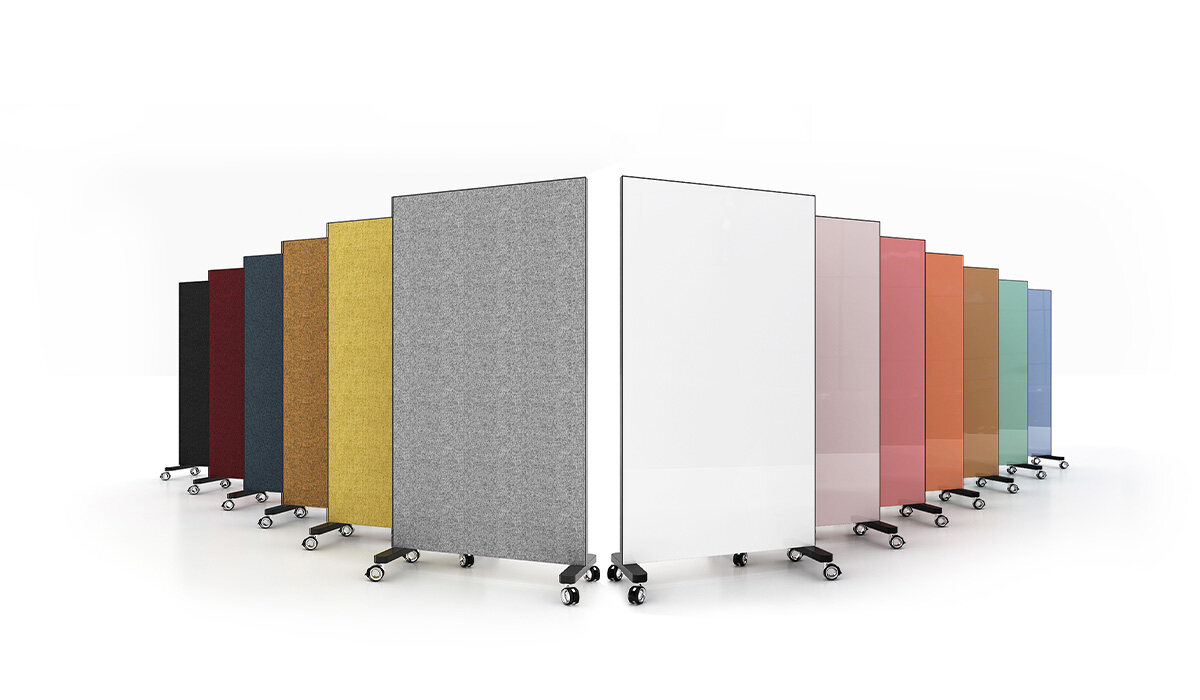 This mobile writing board features an interactive public area, characterized by dual-colored glass design
combined with fabric panels. You can easily reach out and record your ideas and inspiration, simplifying
complexity. Moreover, it offers magnetic attachment, projection capabilities, and customization options,
providing endless possibilities for your creativity.
Whether it's for team discussions, presentations, or expanding your personal workspace creatively, the
mobile writing board meets all your needs. It's not just a practical office tool but also a stylish and tasteful
decoration that accentuates your space. Let the mobile writing board become the focal point of your
workspace, bringing you infinite inspiration and creativity.
lluminate your space with sophistication and youthful energy.
With warm and bright colors, the space is instantly lit up, creating an ambiance that exudes sophistication
and youthful vitality. This wall-mounted writing board is not just a practical office tool, but also a decorative
piece that adds vibrancy and a touch of flair to your space.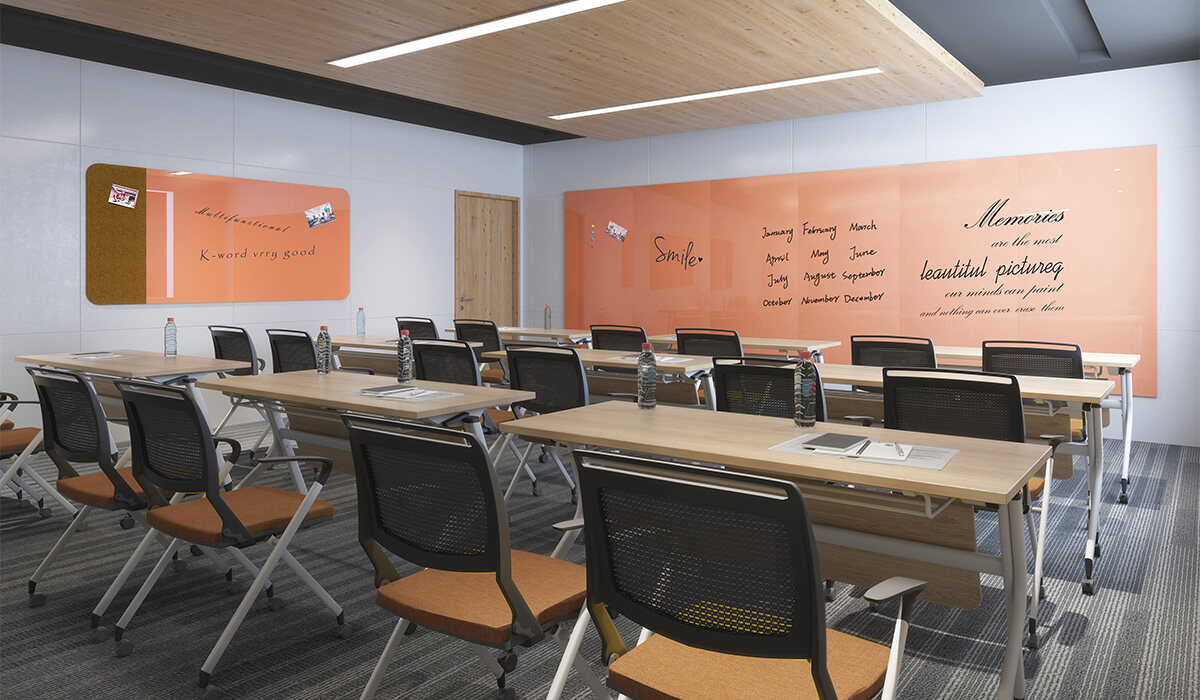 Whether in the office or in the creative areas of schools or workplaces, this writing board provides you
with a personalized creative space. You can use it to record inspirations, draw, plan tasks, or share ideas
and collaboration plans with your team. The bright colors inject vitality into the entire space, creating a
more relaxed and enjoyable atmosphere for work or study.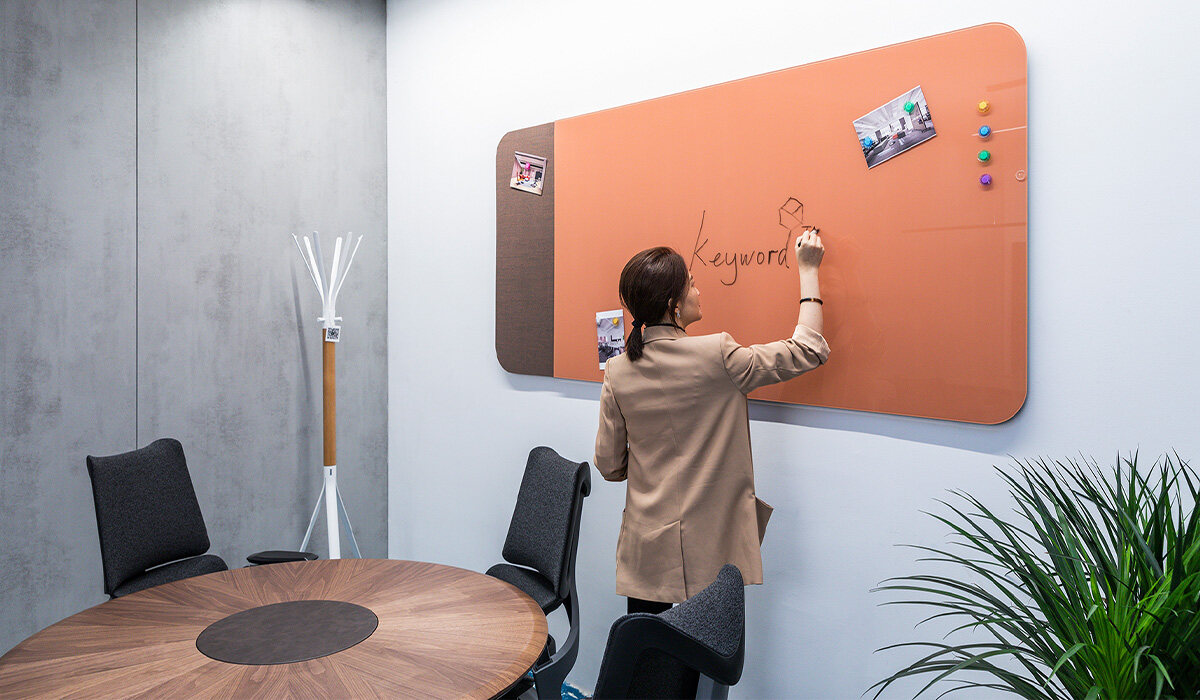 Features:
(1) Frameless design with hidden mountings for a floating appearance on the wall.
(2) Rounded corner design for a more user-friendly experience.
(3) Combination of glass and fabric, balancing strength and softness.
(4) Comes with matching whiteboard markers, eraser, and magnetic attachments.
Whether you need a personal creative space or want to provide a collaborative platform for your team,
the wall-mounted writing board creates a warm, bright, and vibrant environment. Let this writing board
be the highlight of your space, bringing more joy and creativity to your work and studies.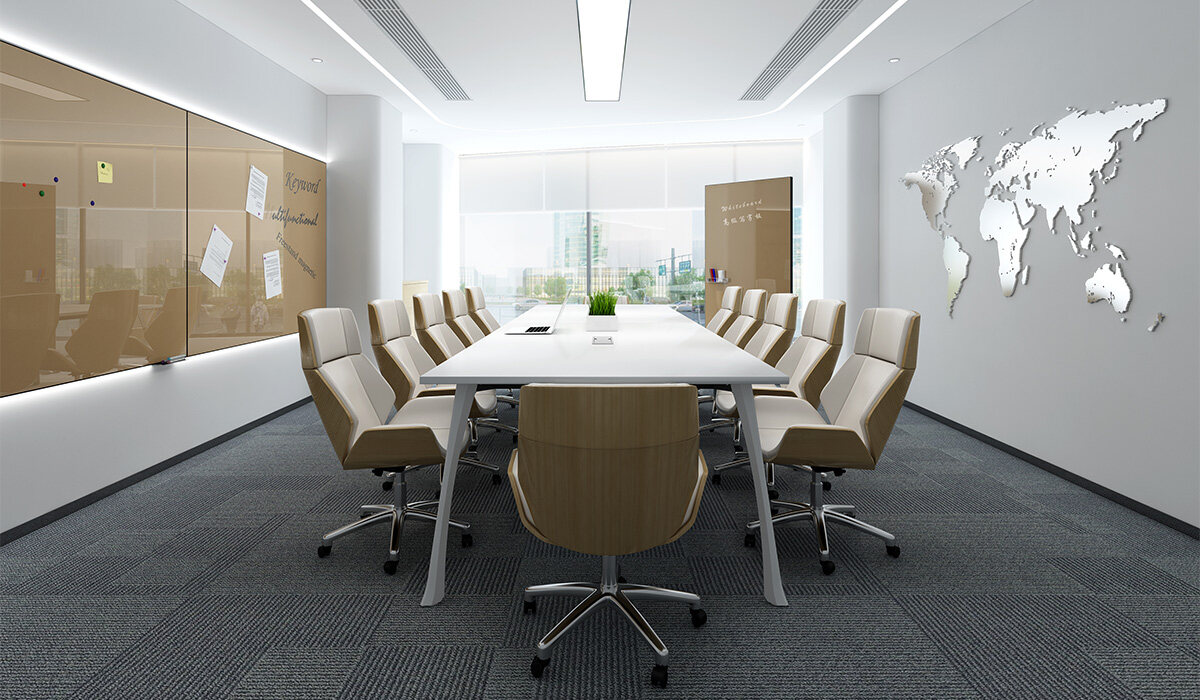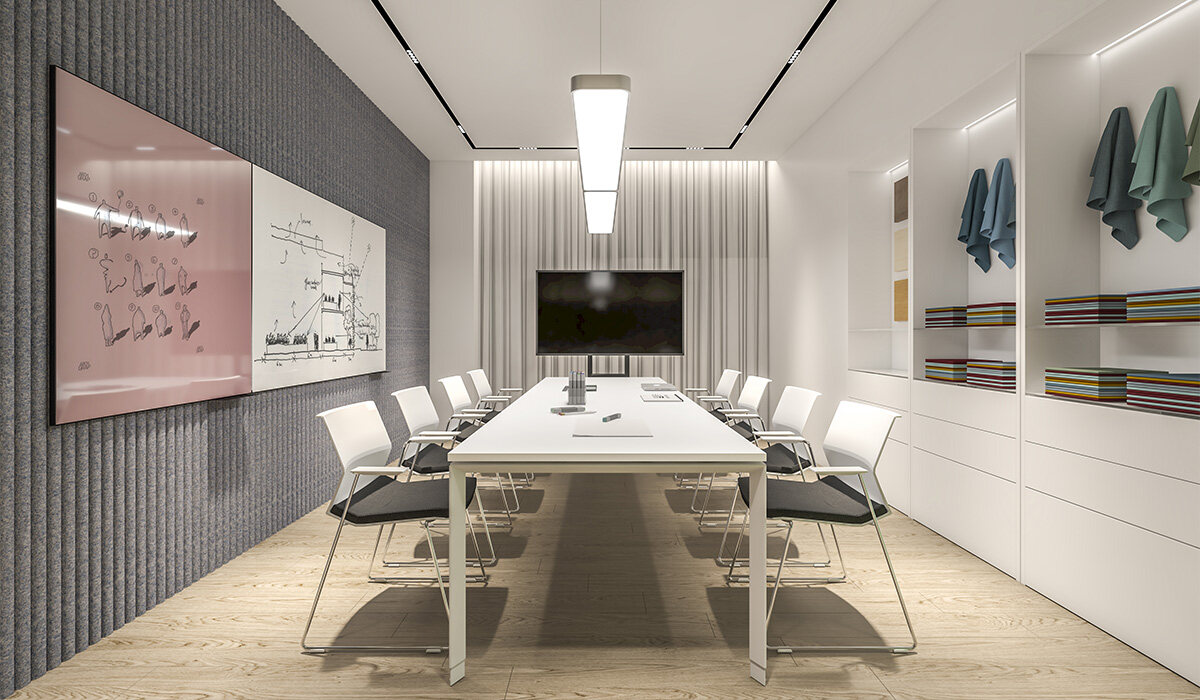 Features:
(1) Black powder-coated aluminum frame.
(2) Magnetic tempered ultra-white glass writing surface.
(3) Multiple color options available.
(4) Comes with matching whiteboard markers, eraser, and magnetic attachments.
A writing board is a versatile office tool that not only provides a convenient space for writing and note-
taking but also enhances the aesthetic and personalization of your work and study environment. Whether
for personal creativity or team collaboration, a writing board can be your reliable companion. With its
exquisite design and rich features, along with various accessories, it brings you convenience and inspiration.
Choose a writing board that suits your needs and let it become the highlight of your work and life, boosting
efficiency and creativity.