Functional and aesthetic furniture designed for painting tasks in office settings, promoting efficiency
and creativity.
Conference Table:
A paint conference table is a specialized piece of furniture designed for meetings, discussions, and
collaborative work related to painting projects. This table offers a spacious and functional surface
that allows multiple individuals to gather and engage in productive discussions about color schemes,
design concepts, and other painting-related topics.
The paint conference table is typically crafted with a durable and smooth surface that can withstand
paint spills and stains. It may feature a non-porous material or have a protective coating to ensure
easy cleanup and maintenance. Additionally, the table may incorporate built-in storage compartments
or drawers for conveniently storing painting samples, color swatches, and other relevant materials.
Manager Desk:
A paint manager desk is a specialized piece of furniture designed for the specific needs of paint
managers or supervisors overseeing painting projects. This desk provides a comfortable and organized
workspace for managing tasks, coordinating teams, and overseeing project progress.
The paint manager desk is typically equipped with ample storage options, including drawers, shelves,
and compartments, to keep essential documents, project plans, and administrative materials easily
accessible and well-organized. It may also feature built-in cable management systems to handle
electrical connections for computers, printers, and other office equipment.
With its functional design, the paint manager desk offers an ergonomic and efficient workspace
for handling paperwork, communicating with team members, and making important decisions.
It provides a centralized hub for managing and supervising painting projects, ensuring smooth
workflow and effective coordination among team members.
Action Series:
The Action series is our company's flagship product that pays tribute to dynamism. The innovative
all-aluminum alloy table legs showcase the perfect combination of aesthetics and mechanics, while
maintaining a minimalist design style. The finely crafted beveled edges of the desktop highlight the
beauty of wood and its texture. The integrated high-capacity side cabinet with sliding doors and
drawers caters to more extensive and complex management processes. The thoughtful design of
the cabinet's surrounding edges ensures a secure placement of your belongings.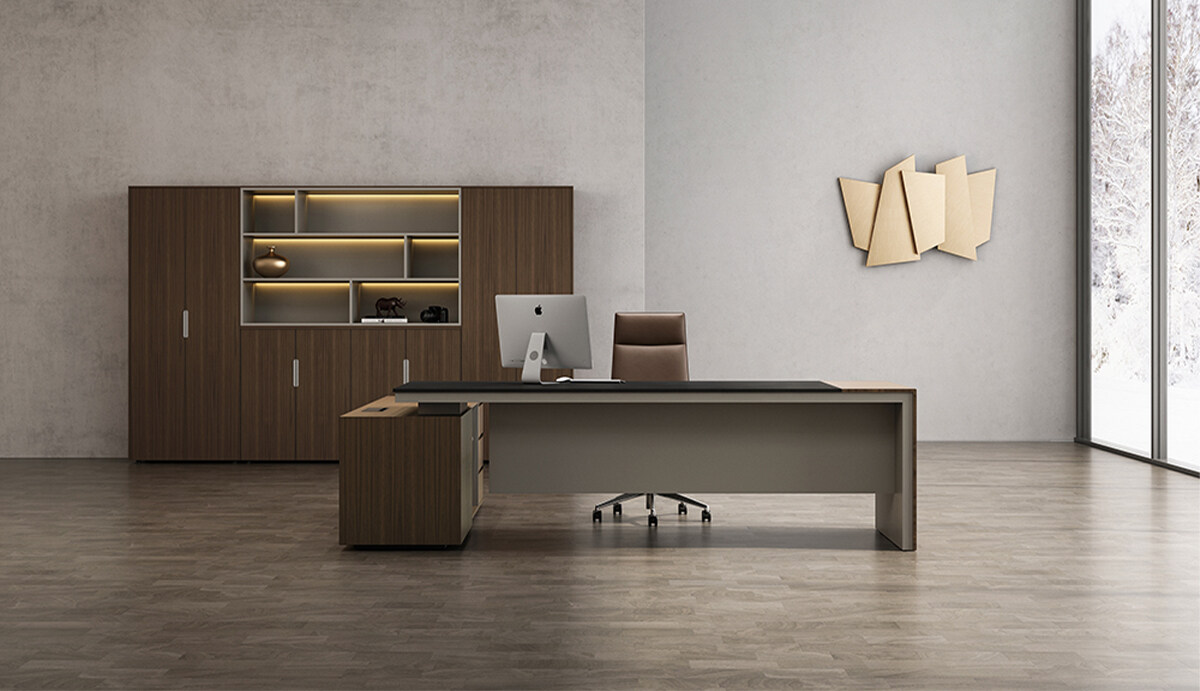 The elegant and delicate maple wood grain meets the resilient and clever metal steel frame, skillfully
combining refreshing soul-cleansing aesthetics with modern technology. Breathing in nature, working
in a modern setting, it embodies extraordinary and exceptional elegance.
DEAL Series
Steady walnut wood, combined with a dignified and stable appearance design, creates a resolute and
determined atmosphere. After careful consideration and thoughtful contemplation, decisive and firm
actions are taken.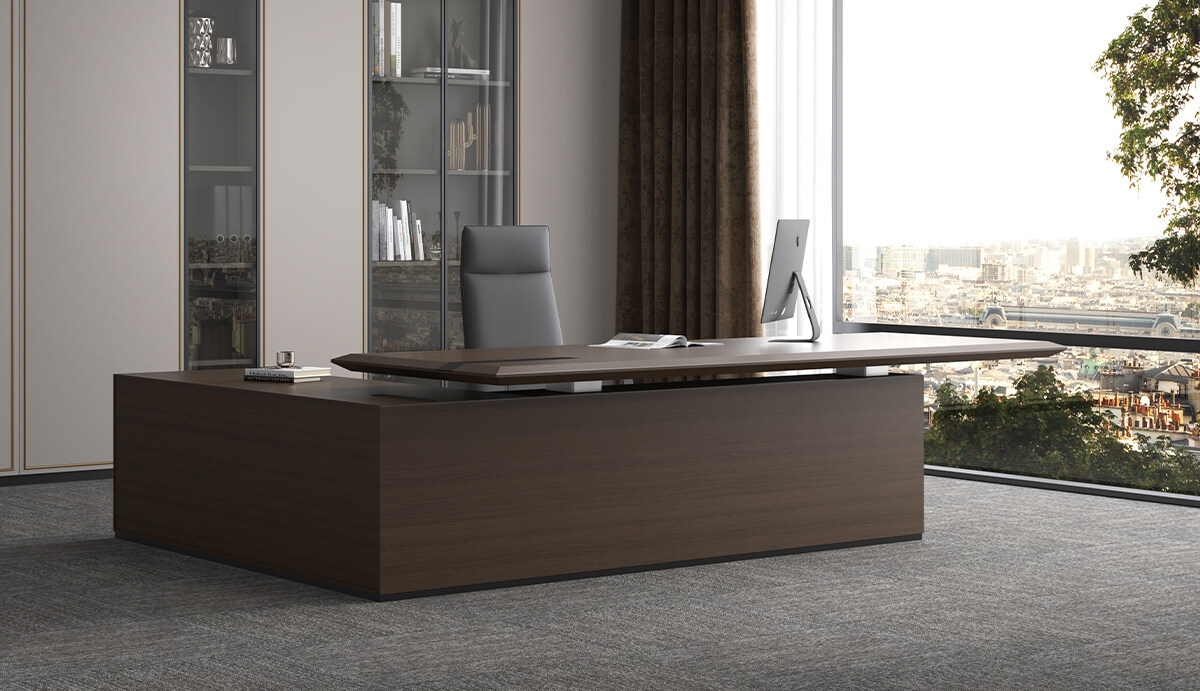 Innovative design brings independence and aesthetic appeal. It is an eye-catching product. Firstly,
the lines on the edges of the table are clean and neat, giving it a simple and elegant appearance.
Secondly, the solid wooden table legs convey a resolute and determined look. The high-quality lifting
system provides the product with unique functionality, satisfying the clear needs of its users.
The design follows a modern minimalist style, creating an elegant artistic sense. Meticulous wood
grain finishes exude a profound strength. The beveled edge craftsmanship of the tabletop, combined
with the adjustable lifting system, allows for effortless work while adding an element of elegance and
grandeur. The side cabinet adopts a handle-free design, requiring only a gentle press to open the
cabinet door, allowing you to enjoy a high-end office life at any time.
POWER Series
The POWER conference table is supported by only two diagonally shaped legs, forming an "8" shape,
to sustain its 8-meter long tabletop, creating a strong and dynamic outline. The overall design of the
desk incorporates design techniques such as beveled edges and cantilevers, breaking away from a
single dimension and adding layers, making the product more modern and visually impactful. The
back cabinet adopts a large open design, providing a more open and free display space, while ample
storage space enhances office efficiency.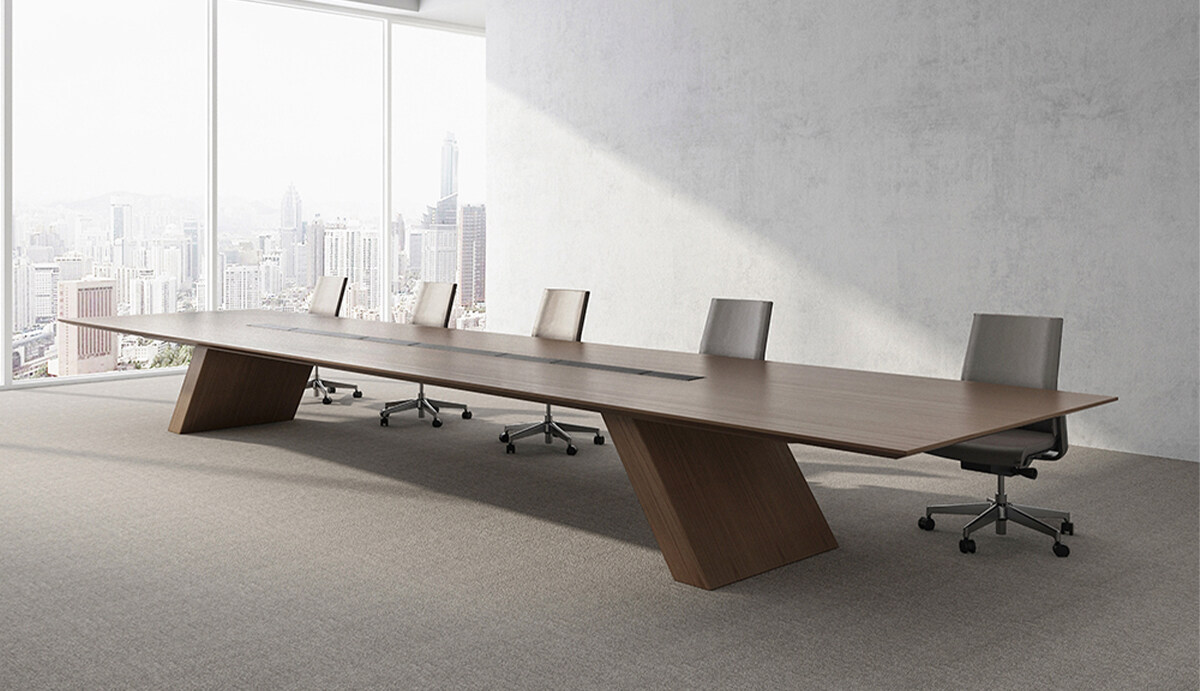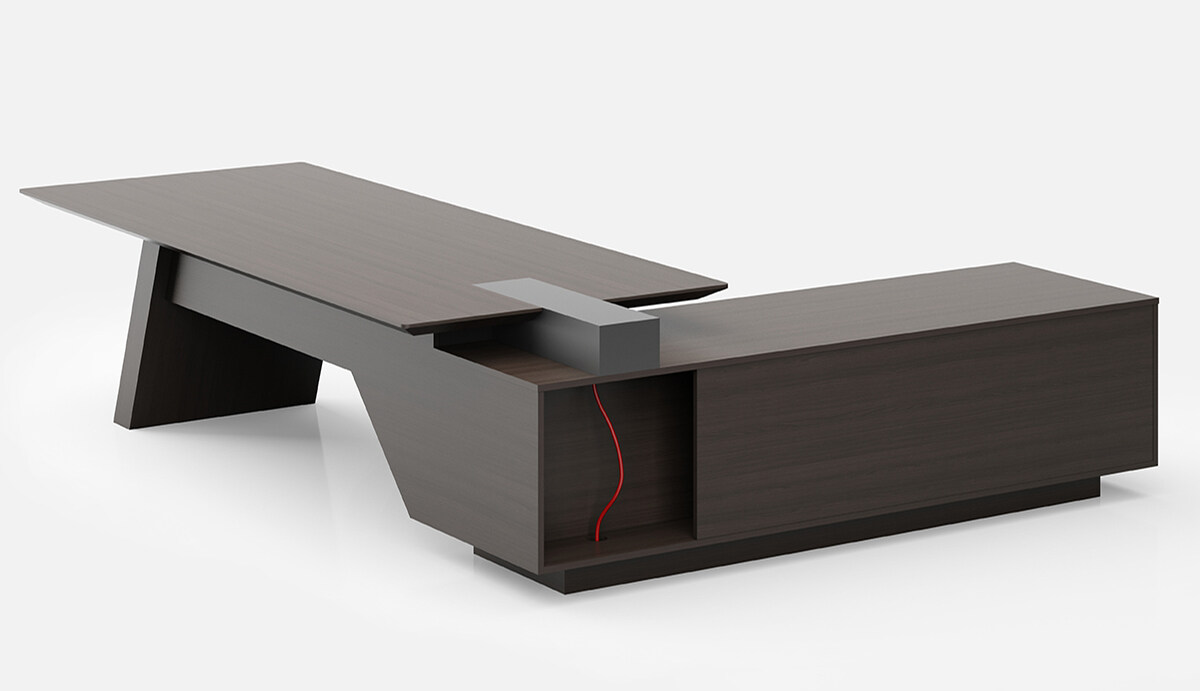 Tarot Series
The steady solid wood lacquer, combined with a dignified and atmospheric exterior design, creates a
resolute and determined presence. The executive's room is their own space, akin to a thought-provoking
tool like a tarot card. We have chosen high-quality wood and combined it with premium hardware
accessories to create a unique sense of security. It blends seamlessly with this desk, exuding trust and
reputation, particularly evident in its elegant tones and understated appearance.
We have combined high-quality wood with premium hardware accessories to create a unique sense
of security. It seamlessly blends with this desk, emitting a feeling of trust and reputation. This is
especially evident in its elegant tones and understated appearance.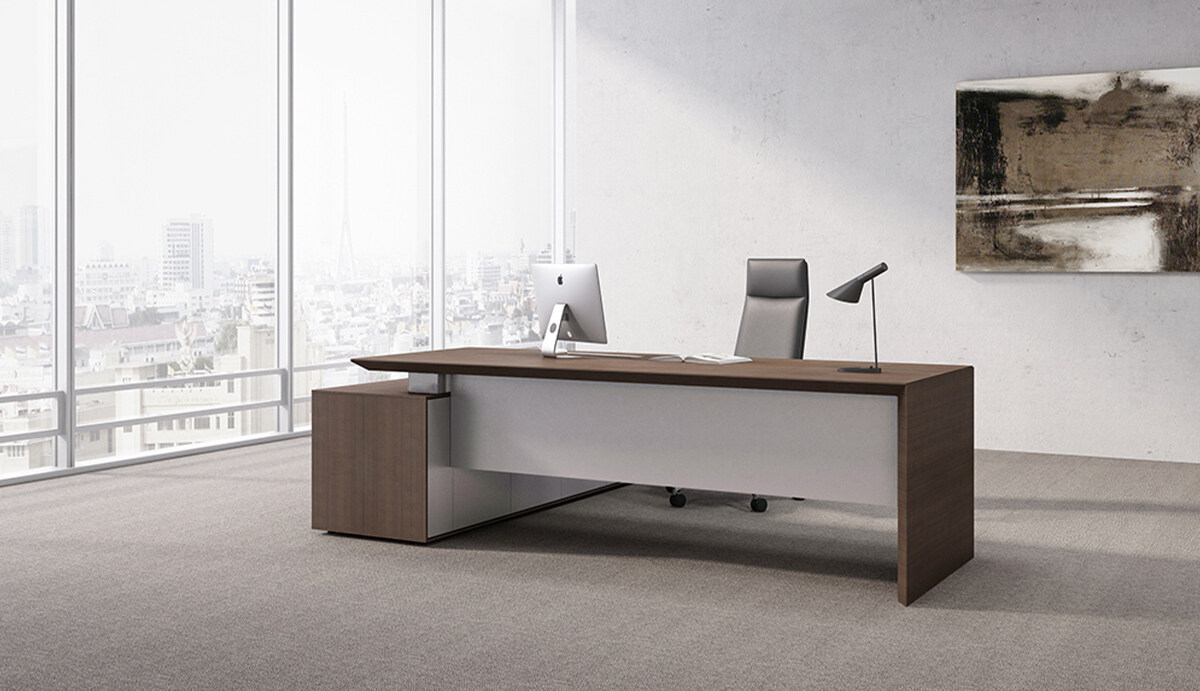 Tarot Series
The "Time—Paying Tribute to Time Series" aims to create a steady and grand office environment. The
office environment influences thinking patterns and behavioral modes, thereby guiding decision-making,
and excellent decision-making leads to success.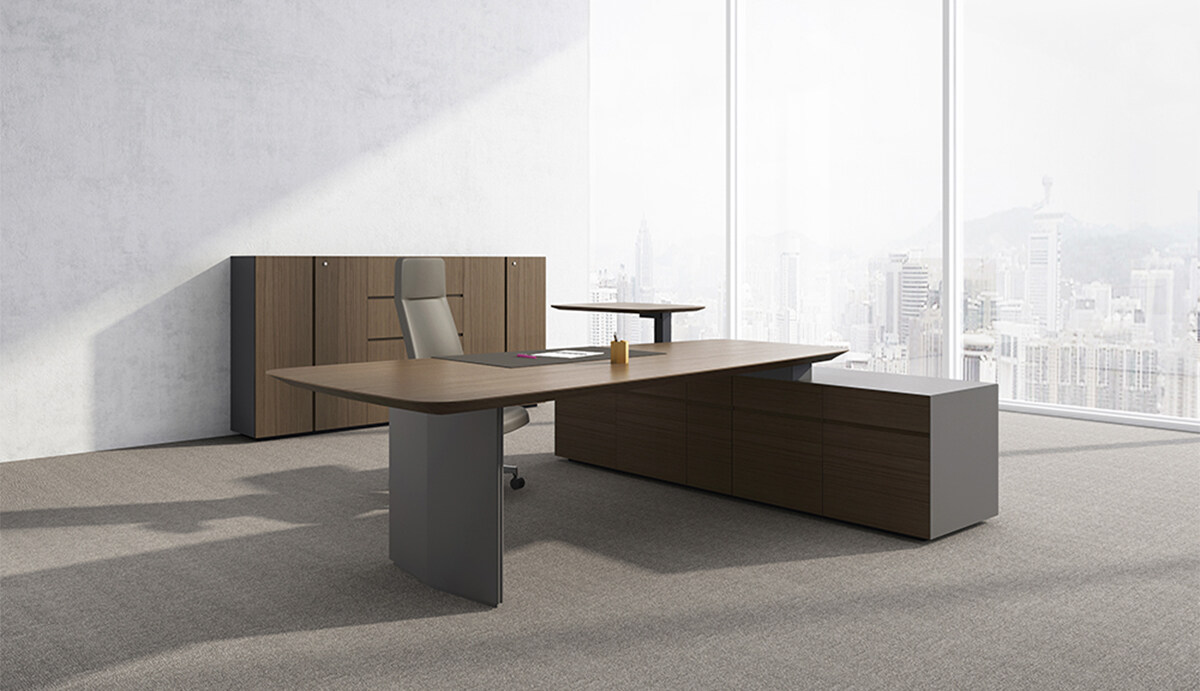 In this series, we primarily promote the elegant combination of dark walnut wood and the composed
"TIME" gray, making the so-called fashion more in line with the modern management style. Visually,
the entire series does not have any scattered or unnecessary hardware accessories, truly achieving
the utmost simplicity. Building upon the clean and sharp German design, the designer has infused it
with a rational work atmosphere for modern office spaces, as well as integrating elegance and
refinement with the owner's moral cultivation. Through the texture of the furniture and introspection,
rather than external perceptions, one discovers oneself and understands the world.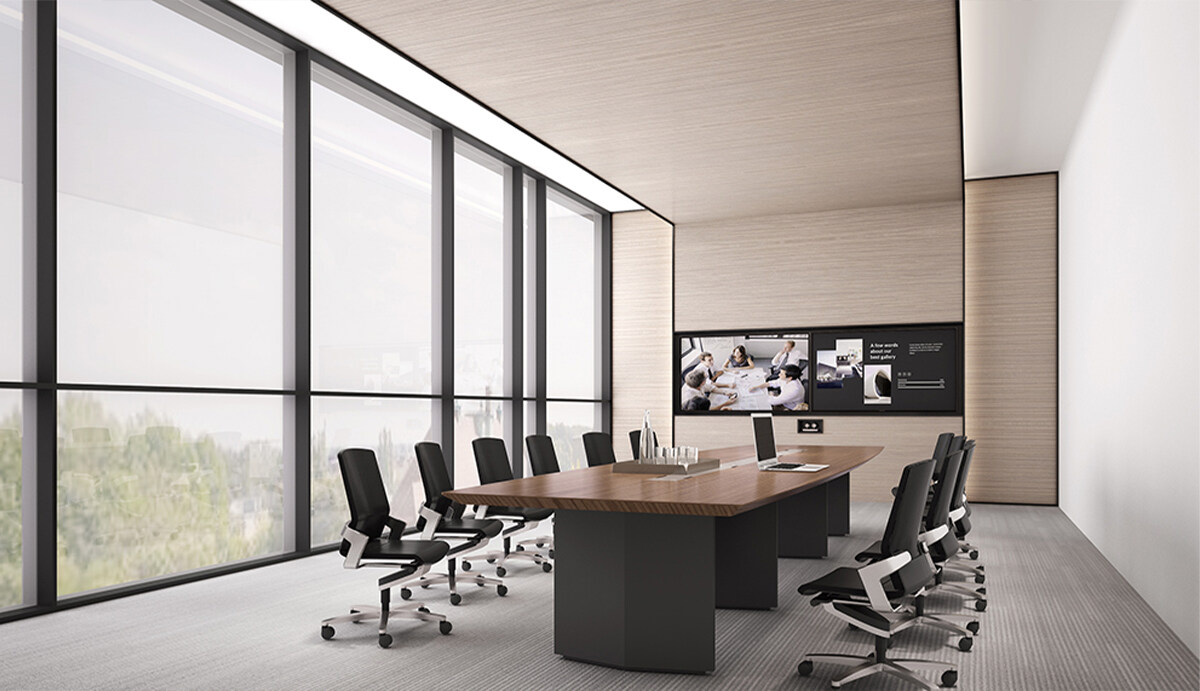 The "Time—Paying Tribute to Time Series" views one's career as a spiritual practice, and in the end,
only time can provide answers. The road is long and arduous, but with calmness and resilience, one
moves forward.
Win Series
The Win series is an expressive office system that incorporates German minimalism and precision,
with each detail reflecting an unwavering pursuit of perfection. It exudes elegance and grandeur,
with clear lines that present the purest visual expression in the simplest way, giving the modern
office space a fashionable work atmosphere.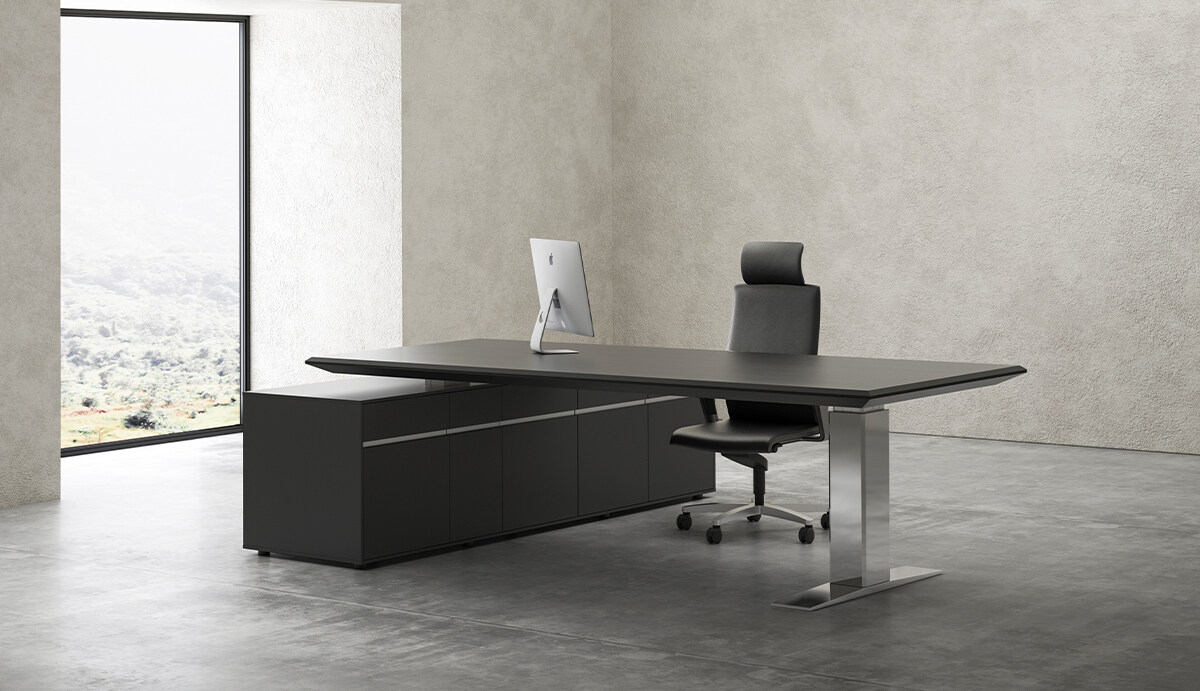 We have added electric height-adjustable features to the Win series products to meet the needs
of modern creative work. The silent lifting column, wrapped in 8K mirror stainless steel, serves
as a carrier for high-end materials and exquisite craftsmanship, combining multifunctionality and
flexibility. It enables seamless transitions between sitting and standing, promoting healthy office
habits and achieving ergonomic balance, eliminating fatigue during work. The silent, durable, and
intelligent design provides users with a healthy and efficient office experience.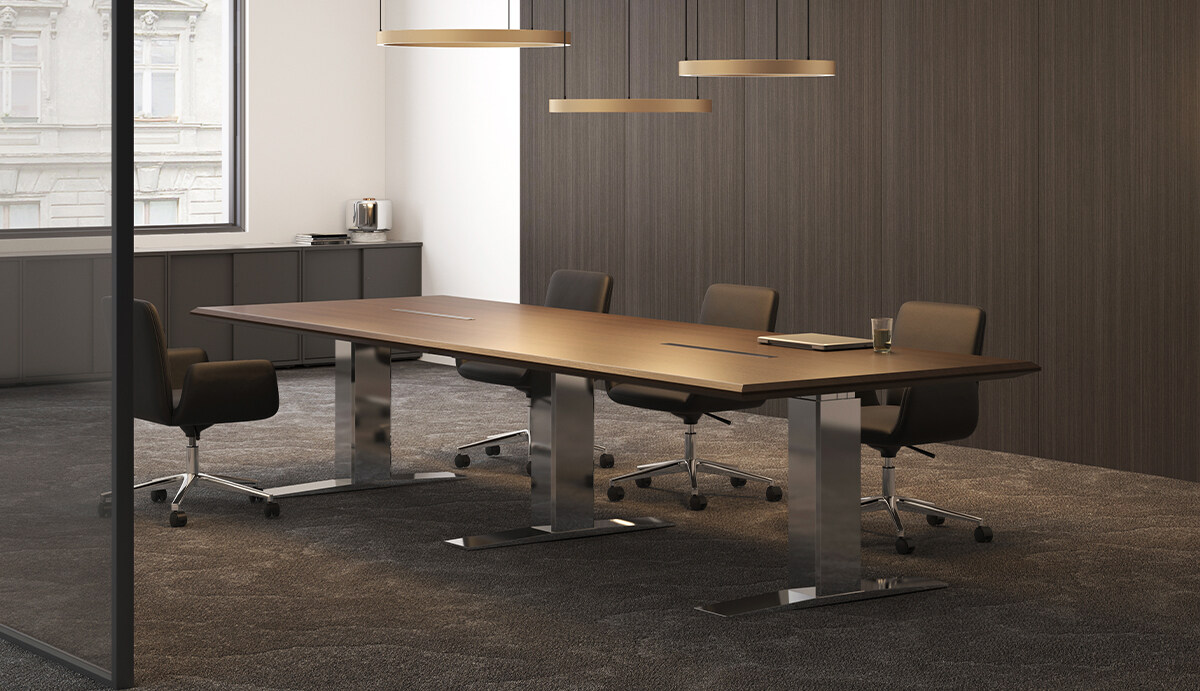 The natural wood grain texture gives the desktop a warm and delicate touch. Combined with the
12mm ultra-thin beveled edge design, it retains the dignified and stable essence of the desk while
reducing the perceived thickness, creating a powerful yet unassuming overall presence. With
exquisite craftsmanship and unique creativity, it seamlessly integrates quality and art, delivering
a modern and ideal business experience.
Win Series
The simplicity and elegance of the design exude a quiet charm, avoiding the noise and extravagance.
The rigid lines and unique shapes display a combination of gentleness and strength, dreaminess and
individuality. It not only possesses an outwardly serene and gentle artistic beauty but also embodies
an inner spirit of determination and excellence, presenting a serene and noble artistic balance.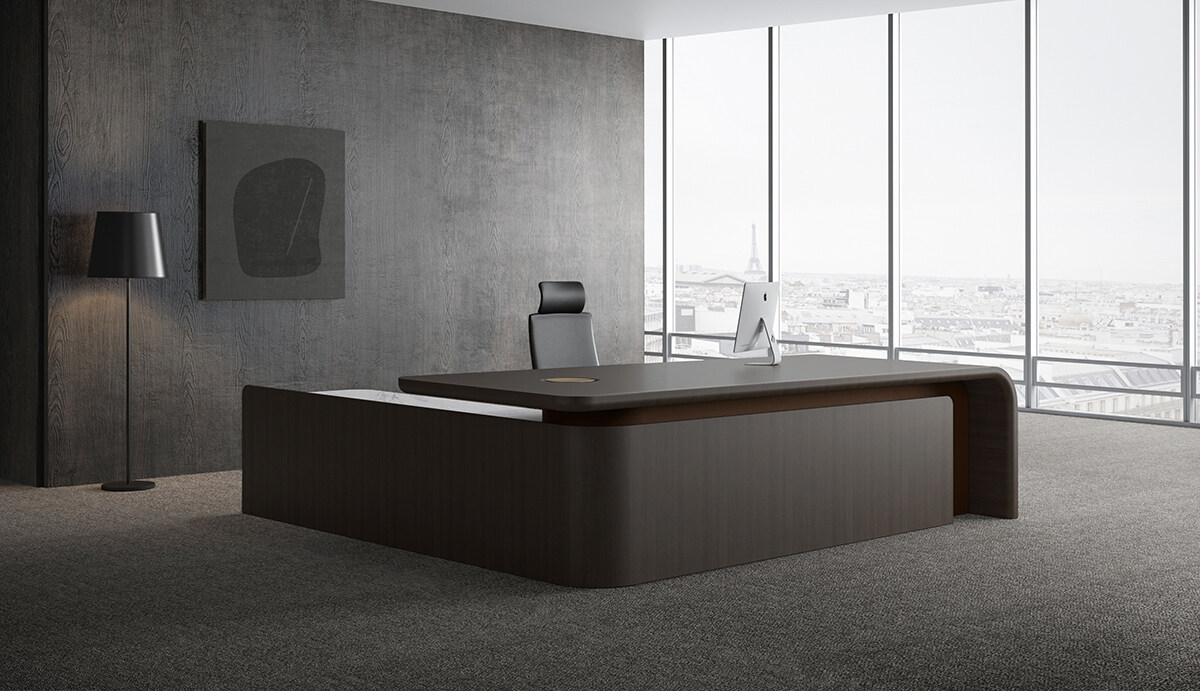 The LeShui conference table incorporates flowing curves into its edges, resembling the movement
of water and presenting an artistic beauty. At the same time, the tabletop preserves the natural
texture of the wood, adding a touch of authenticity and an ecological ambiance. The combination
of horizontal decorative panels and vertical tabletop cleverly creates a rich sense of quality. The
trapezoidal solid wood legs are sturdy, stable, and have a strong load-bearing capacity, ensuring
durability and safety.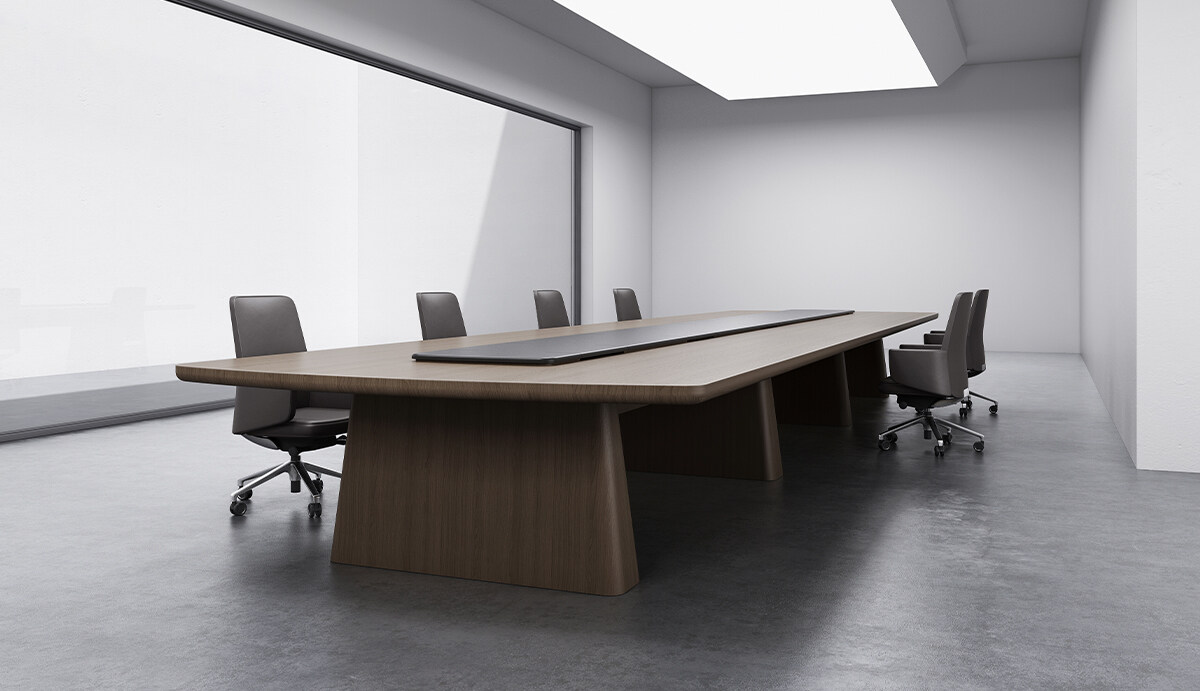 # Paint office desk #Conference table #Color schemes #Design concepts #Non-porous material
# Protective coating #Manager desk # Supervisors #Workspace